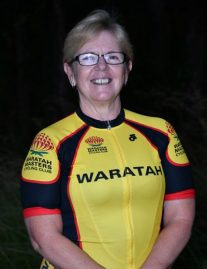 Getting to know Joanne Cameron
Joanne, our newly elected Vice President, married to her biggest fan Neil and always being mistaken for her sister Michelle.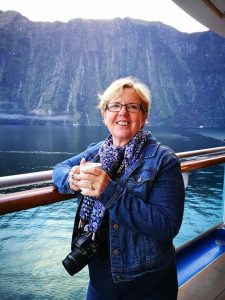 Where were you born?
Sydney
Which high school did you attend?
Beverly Hills Girls High School
What was your favourite music or band at high school?
Hmm there were so many, Dragon, INXS, ABBA, James Taylor, Bee Gees, Earth Wind and Fire, Billy Joel and dare I say Bay City Rollers
Where did you study? Didn't go to Uni, left school and went straight to work
What was your first job? Registration clerk at a solicitors firm in the city
What was your worst job? My last job – intolerable people!
What was you great achievement in in your career?
Working at Cycling Australia for 18 years – it was the best job.
Everyone that I worked with had the best interests of the sport in mind and we always worked for the members.
I hope that there were many achievements, these stand out:
Working with the first database that CA had and the implementation of the plastic membership cards – 2000
Organising for CA on line membership renewals – 2006
Educating the states and clubs with the new database – 2011
Working as the medal presentation coordinator at the World Track Championships – 2004 and 2012
UCI guest relations manager at the 2010 Road World Championships
Organising committee and working (very long hours) at the Masters World Track Championships for 3 consecutive years (2007, 2008, 2009).
Meeting many, many cyclist, commissaires, members of the public and helping to make this sport enjoyable for all.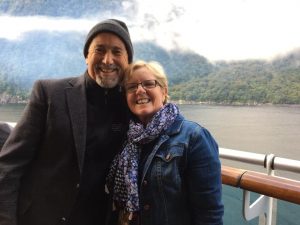 Joanne with Husband Neil
If you have children, can you tell me their names, age, if they are married and have children?
Alex – 34, Nick – 31 and Megan – 27.
Alex and Siobhan married in 2012. Nick married Leala in October last year.
Megan has a wonderful partner, Joe.
How would your children describe you as a parent?
Hopefully fun, organised and laid back (but with a stricter side if needed)
Are you married if so to whom and how long have you been married? I have been married to Neil for 38 years in October.
How did you and your husband/partner first meet? We met through friends at the local church group.
Do you have any siblings? How many, are they older/younger and gender?
I have two younger siblings, Michelle who many at the club will know and our brother Peter who passed away over 30 years ago.
What's the funniest thing that's ever happened to you?
Hmm being mistaken for my sister on many occasions. (sometimes we – Michelle and I- just go along with it)
What is your happiest memory?
Being a proud parent, watching and encouraging my children to always to do their best, whether at school or on their bikes at BMX or anything else they tired. But if I must pick one – there would be three – when each of my children placed at national titles.
Alex 1st – 15 Boys, Elite Men 2010 and Elite Men 2016,Nick – 2nd 25-29 Men,
Megan – 5th – 15 Girls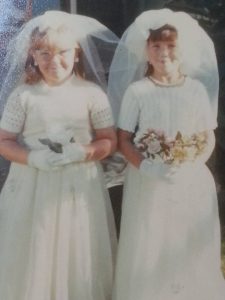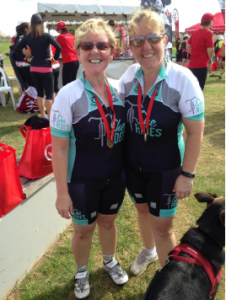 What accomplishment are you most proud of? Three amazing children.
How do you think people will remember you?
My children will remember, eat a piece of fruit!
Not sure how other people would remember me, quiet possibly the quiet one that can be feisty if need be.
Who is your biggest fan?
Hopefully my husband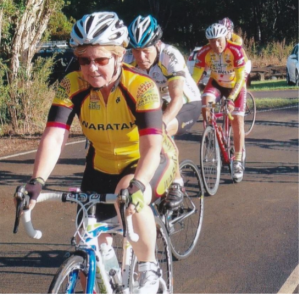 What do you like to do in your spare time? Well, I have more spare time than I use to, so I like to ride my bike, see friends and enjoy life.What is your most embarrassing moment? Hmm being mistaken for my sister on occasion. Yes, the same as funniest.
What is your greatest fear? Snakes! – especially on the M7 bike path in summer.
What is the greatest lesson you have learned in life? Not to take everything to seriously, life is too short to hold grudges and be unhappy. AND already take a spare tube when training!
When did you become a member of The Waratahs?
2013 – after over 18 years of running around after my children's sport, I decided it was time to have something to do for myself and coming from a family that cycles, it was the obvious choice for me. And as dad (Barry Robins) was a founding member, Waratahs was the only choice of club.
How long were you on the committee and what roles did you hold?
4 years as a member of the committee, as chief commissaires. Assisting the commissaires with any queries and keeping them updated of any changes made to rules and regulations. And just recently as Vice President.
What is the best memory you have of being at the Waratahs?
Celebrating dad's 80th Birthday with the people at the club, it was how he wanted to celebrate, and the club made it a good day for him.
Seeing familiar faces each week and watching them continue to compete to the best of their ability.
No matter what your age Waratah Masters are a friendly welcoming club, encouraging riders of all masters ages to have a go with racing every week of the year.