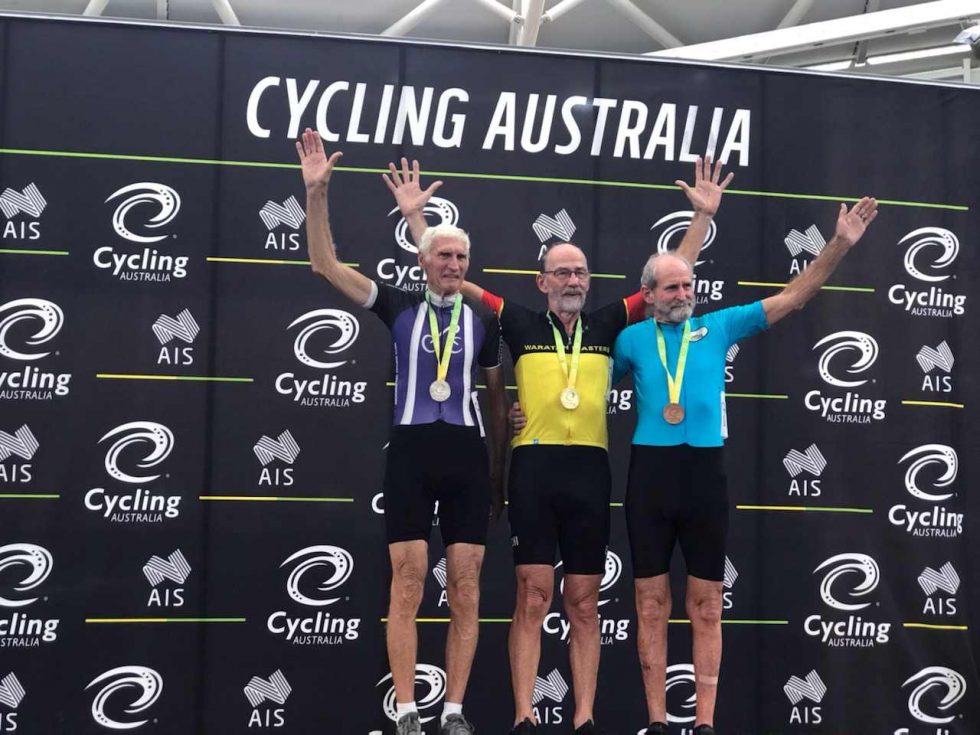 AUSTRALIAN MASTERS TRACK CHAMPIONSHIPS – HARRY ROURKE
I recently competed in the Australian Masters Track Championships held in Brisbane at the Anna Meares Velodrome – luckily, we were able to complete the carnival before all cycling events were cancelled or postponed. Unfortunately I was the only competitor representing the Waratahs this year. There were 6 events held over 4 days, and, being a glutton for punishment, I entered and rode in all events. I compete in the MMAS9 category, and there were a field of 6 competitors in my age group. What a great event and so well organised by Cycling Queensland and Cycling Australia. The velodrome is a magnificent facility, with the track being in superb condition and providing all those little extras in the infield like chilled drinking water taps to refill bidons and an automatic pumping station for tyres.

Being relatively new to track racing, I was ecstatic with my results this year. I came home with 2 gold medals, for the Keiren and the Individual Pursuit, a silver in the Points Race, 2 bronze medals in the Sprint and the Scratch Race, and although I came 4th in the Time Trial, I rode a PB in this event, which was very pleasing.

Thanks go to all the people who have helped me over the past year to get to this level including Paul McKay, Rod Wagner, Craig Cameron (Coffs Harbour CC), Geoff Stoker and my track training partners of Rod Wagner, Michael Sales and Bob Clarke. I intend to continue to work on improving my performances for next year's competitions.

Being a road rider, I'm probably the only person to ever have won an Australian track title in a road jersey and with a banana in my back pocket (no banana really, but at one stage during the Points Race I did reach for a bidon that wasn't there!). Due to a conflict of dates, I missed the B2B this year, but would like to congratulate all the Waratahs that took part in it – from what I've been told the new course made it a tough event.