Denis and Harry's Big Day Out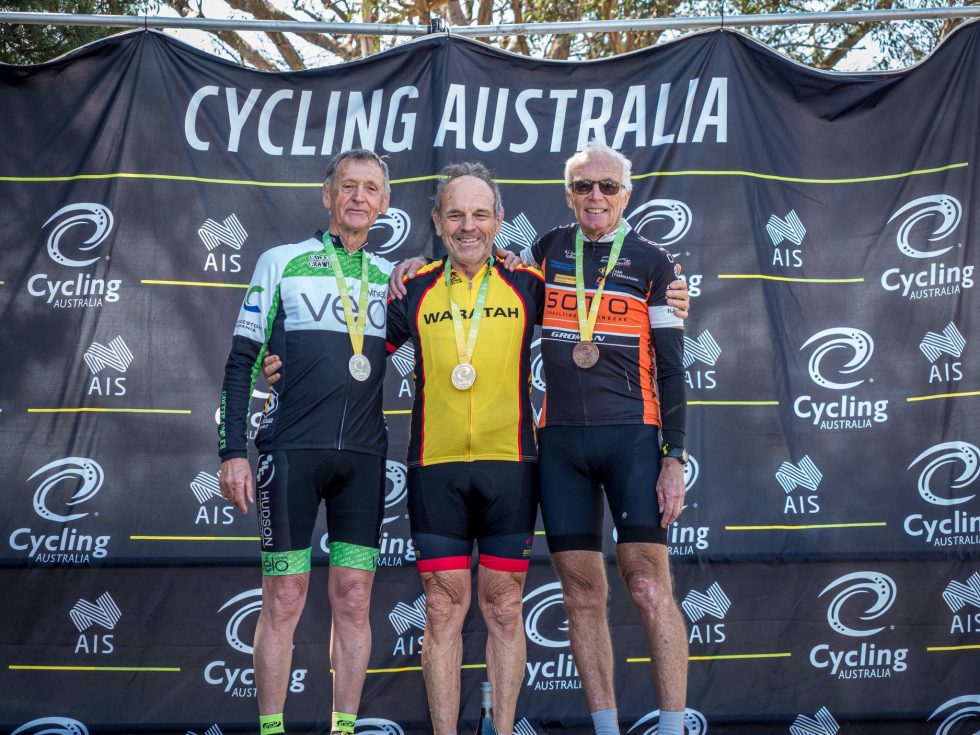 Three Waratahs went to Adelaide last weekend for the Australian masters road titles.
Denis Fahey came back with a bag full of trophies, taking first place in the M10 division in the road race and criterium, and second in the time trial. Denis also won the champion of champions jersey for the best overall results in his division.
Harry Rourke, in M9, also did well, with a second in the criterium, fourth in the time trial and fifth in the road race. Marcus Judge, in M7, took 9th in the road race and sixth in the criterium.
We talked to Denis after his road race win. He had a great story to tell. The race looked to have many of the classic ingredients – wise old heads from 4 states, a very tough course, with a steep 3k climb, and a rectangular route that meant the steady wind could have an influence. On top of that, it was a beautiful day in the McLaren Vale, looking Irish green after the winter rain, not that the riders would notice that when they were chewing the stem.
When Denis saw the profile, he was pretty concerned about the Penny's Hill climb. It needed to be overcome twice, including on the final run to the finish, just a few hundred metres from the crest. At 2.7k with a 7.4% average, Penny's looks hard enough on paper, but it's harder still in a race, especially with several steeper sections which peak at 13%.
Since he thought of himself as a sprinter, Denis wasn't too sure how he'd go. He expected attacks, not that he was going to volunteer to make them. Our two grand masters were going to be racing together, with the M8, 9 and 10 riders grouped into one race, with separate places to be awarded for each division.
This is where Harry comes in. The gents were talking about the race after their time trial the previous day. In fact, they both had the hill on their minds – Harry wasn't sure it suited him either. He asked Denis what gearing he was planning to use, and when he heard, he thought he could at least do something to improve Denis' chances. Harry can be pretty straightforward when he needs to, and he told Denis his easy gear wasn't easy enough, but he could do something about it. In a generous display of club spirit, Harry set Denis up with a spare cassette with a 32 cog.
We spoke to Harry about his tactics before the race. He too was concerned that he'd struggle on the climb, but he had an idea. He was going to attack. He wanted to try to get away, or at least, to work the climbers over, if he had a chance. When we asked him where, he just said "anywhere"! All would be revealed on the road.
So Friday morning came. It was cool and quiet up on top of the range. The riders gathered at the line, the commissaire gave her briefing, and then the moto set off, the riders clicked in and the race began.
The bunch rolled along the undulating ridge, trying to get a gauge on each other, checking the coloured helmet covers that denoted the different divisions, making sure to keep good position in the group. After 7k, there is a small rise which seems to lead into the sky – there is no sign of the road ahead. That's because, on the other side of the rise, it plummets 3k to the valley. Wickham's Hill is a steep descent with twisting turns and several switchbacks, and is followed immediately by another 3k of more gentle descending, then just 3k before you have to get started on Penny's Hill.
It's a bit spooky knowing there's a big drop coming but not having line of sight, especially if you haven't ridden it before. Riders who have done so at least know what to expect, but what they don't know is how it's going to play out.
That is, unless they had decided beforehand that they would be the ones to set the agenda.
The plot for the next chapter became apparent very soon after they reached that crest. Our man Harry took the initiative and bombed down that hill. Harry is very hard to stop when he puts his mind to it, and he wasn't in a mind for stopping or indeed, for slowing down much at all.
What was going through everyone's head at this point we don't know, but Denis didn't mind. Downhill speed is fine by him, but he was a bit concerned about his carbon rims. Denis said later, the race started to sort itself out at this point. In his words, "Harry blew up the race". Denis himself was passed by two competitors and "I had to TT back to them".
Jumping forward, the times from the finish hint at how the story unfolded, with the winners of the two younger divisions, and 3 others, finishing fairly close together. The rest of the riders in those divisions were quite spread out.
In Denis' race, they let the younger blokes get away and concentrated on their own contest. It was close fought, with the top 3 separated by only 3 seconds. We'll let Denis take up the story.
"I was amazed that they didn't attack me on the hill", Denis said later. "I was expecting they would, but they didn't, and I managed to keep up with Harry's climbing cassette on the bike. I knew if I could just get up the hill the second time, I could beat them in a sprint."
And that's in fact just what did happen. As the crest arrived, Denis found himself where he had hoped, but not expected, to be. Harry's cassette and attacking tactics had worked to his advantage, as had the way the race evolved, and he didn't hesitate. He turned it up over the top and hit the line 1 second ahead of Phil Stevenson of Northern Vets (Tasmania) and 3 seconds ahead of Hugh Brown of Illawarra.
For Denis, it had turned out to be a very good day indeed. He was relieved and a bit surprised to have had his opportunity, and he was quick, in the interview afterwards, to express his appreciation for Harry's part in getting him to the point where he could unleash his winning sprint.
(Story by Marcus Judge, who survived the hill once and endured it twice more.)
Some more quotes from Denis:
On how he got into cycling: "When I was 35, a mate started a cycling club and he got me into it. I had buggered my knee playing league and I thought I'd give cycling a go."
On training: "I do about 9,000k pa indoors on an 89" fixed gear as well as riding outdoors. It's all at a steady pace and I ride solo – I don't do intervals."
On Harry: "Harry's an amazing clubman. Make sure you say that Harry was a big part of the result."
On staying fit: "Good eating – no rubbish. I just eat veggies, fish and water. I don't drink Gatorade."
On why other Waratahs should come to the state and national titles: "You've gotta give it a go."