The virus killed the bike shop
It was 1980.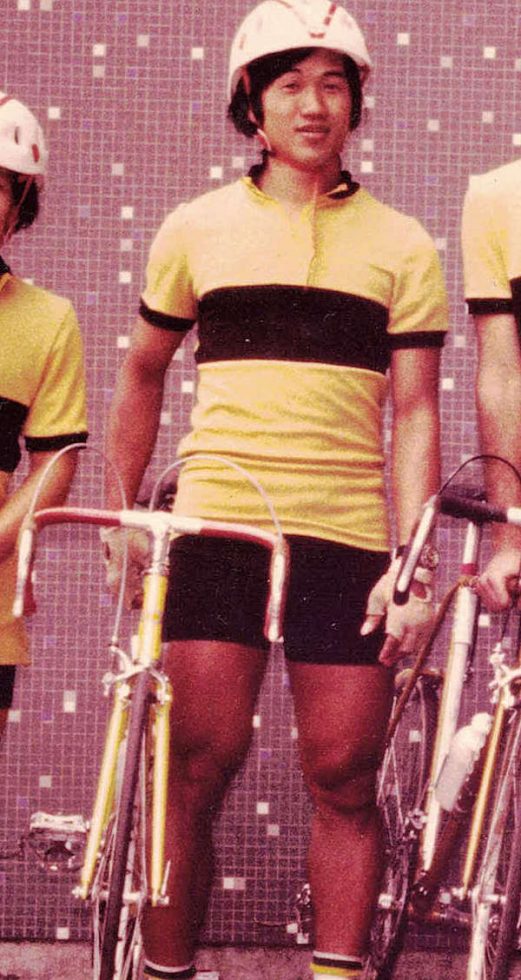 John Abeni at Europa Cycles pointed a greasy finger towards the shiny yellow bike towards the back of the shop. The red ABENI stickers covered a columbus SL double butted custom built frame. The frame cost me all of $250. The Cinelli handlebars were wrapped with red bar tape to compliment the Mavic 'red' singles wheelset. The rest of the bike was configured with low end Campag and Shimano gear. It was my first real racing bike.
I ended up running into a crash barrier in a race at the Rocks. Only weeks after I had rolled the bike out of John's shop – but that will be a story for another day.
I used to spend hours in bike shops looking at their showcases…and the frames hanging along the side walls. I would pretend that I had the money to buy new gear – when all I really needed at the bike shop was a tube or a tyre.
Then I bought my first tyre online.
You are a commodity until you can set yourself apart
Today, if I wanted a new Dura Ace crankset, I don't go to a bike shop.
I Google it and it tells me where I can get it the cheapest. When faced with EXACTLY the same item from all available retailers, we 'no-brainers' will send our money to the cheapest website store.
On-line stores make money on volume. 5 cranksets a day may make them $300.
John Abeni would have been lucky to sell one crankset a week. It cost him four of my visits before I bought a ' Suntour Superbe Pro' crankset.
Traditional bike shops are very inefficient in commodity retailing. They cannot move volume. If they are selling an item … and that exact item is also sold somewhere else, they are screwed.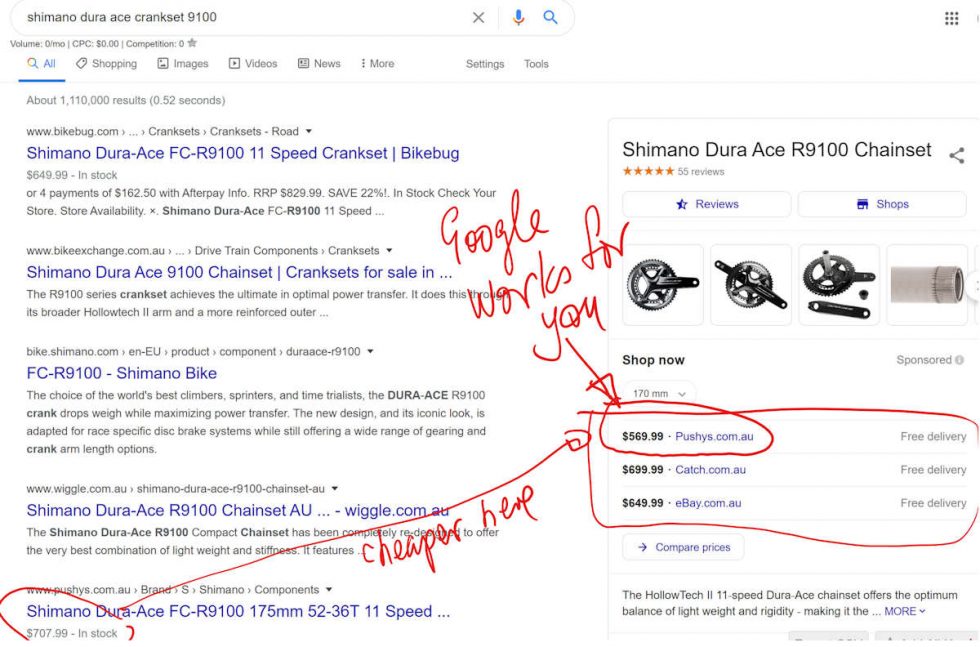 The post virus bike shop will have no shopfront. No store. No staff standing around waiting for customers. No stock. But it is open 24 hours a day – 7 days a week.
It will marry the 'Gig' economy models of Uber and AirBnB with the subscription model.
It will never be the same again.
The virtual bike shop.
There are two components of reality.
The data driven part can be outsourced to Artificial Intelligence. Imagine racing on Zwift. The virtual reality is all data driven.
The dumb reality is the rider on the trainer.
I have no idea what my 'bike-fit' data is or even when I last changed my chain. I should not need to if I have my bike data profile stored in the cloud. Easily retrievable.
But we do need a real human to complete the circle of reality.
The idea of a personal bike butler has a lot of appeal.
And I found my Jarvis on LookAfterMyBike.com
When I visited this store, it offered me 4 levels of subscription:
Basic
Hold my hand
Push me along
Give it to me
I clicked "GET STARTED" on the top level to get the ultimate. I wanted it all.
It says: Monthly subscription – $500. Minimum duration is 12 months.
What you get:
Your own bike butler/mechanic (at your premises)
Monthly wash and service (at your premises)
Scheduling of tyre, brake pad, chain and component replacement
Sourcing the cheapest deals and setting up purchases to get the best bang for your buck
You buy what you want and we put it on
Make your wish list come true
Race support
The latest recommendations on gear, training, nutrition and where to get it
Data matching to find your best cycling companions
Curator of the best current cycle racing media
Access to network of cycling bike fitters, coaches and health professionals
Setting up of home trainer and virtual training programs
Bike fit updates as your riding style progresses
Your cycling tours organised. We have your data. Leave your bike at home.
Your own cloud account with all your data at your fingertips
Custom requests
The chatbot appears on the webpage and answers a list of FAQs.
It then offers me the first month FREE.
I clicked 'BUY'.
The chatbot re-appears and it is data gathering time. When the session is complete, this bot knows more about my bike, gear and habits than my wife X 10!
My bike butler
They sent me Jarvis. He came to my place to do the final data dump.
Jarvis now turns up at my place on the third Tuesday every month. He knows where my bike is kept. He opens up his ipad and he knows exactly what was done last time and what to look out for. He does his thing and loads up my cloud account once he is done.
At other times, he gets me on Zoom and we chat.
I once asked him how he got the job of 'Personal bicycle butler'
He was a passionate bike racer and good with his hands. Loved the idea of the 'Gig' economy.
Apparently, the virtual bike store gives him around 20 premium clients to look after and he gets paid $400 per month per client. He also gets to keep all the gear that gets retired. Extra pocket money.
Jarvis is part AI and part human. The human part needs the money.
The huge virtual bike shop is mainly AI. The small human part gets a profitable cut of the money.
The dumb human is me. But I have the money to spend.