Waratahs on the Podium: Report from Gippsland
The rolling hills of East Gippsland were the setting for last week's national masters road titles, and for notable performances by Waratah Masters riders.
Congratulations on gold medal rides to Maria Nash in the M7 road race and Peter Jones in the M10 time trial. Congratulations also to Harry Rourke, 2nd in the M9 road race and 3rd (ST – same time as the winner) in the criterium, Dennis Fahy, 4th in the M9 time trial, Jack Yuen, 8th in the M7 road race (ST) and 6th in the criterium and to Michael Troup, 12th (ST) from a large field in the M5 road race.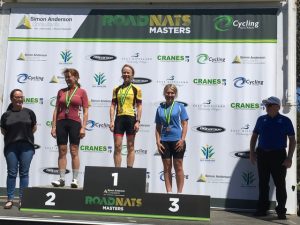 We spoke with Maria about her winning ride. In only her 3rd competitive event since taking up cycling 18 months ago, she won by a healthy margin. This followed earlier success at B2B, where she also won her division, and in the world granfondo championships in Varese, Italy, where she placed second.
Maria had plenty of time to think about how she'd approach the race on the long drive down from Sydney, and she took the line with a clear strategy in mind. Although still pretty new to the game, she's learned quickly.
The course begins with a 10k ride out to a hilly circuit, with a succession of 4 climbs, before it heads back the same way via the steep ascent of Stones Hill, with gradients up to 14%, and the last section with 3k of plateau and a long drop to the flat finish.
Most riders in most events felt that the races would be decided on the final climb, and that was Maria's plan. Her intention was to "bolt up that hill".
Although Maria expected a fast and furious race, it proceeded fairly cautiously. Apart from a brief flurry, where she had to chase on, it seemed that the riders were all saving themselves for the last ascent.
You can see Stones Hill from a long way out as you ride along the riverside approach. If you've got any doubts, then there's 6 k of cagey bunch riding and positioning along the flat to sort yourself out before all hell breaks loose. The question for those who think they might be among the better climbers is whether they can create enough of a gap to hold it all they way down to the finish. It's an all or nothing play – either you'll hurt them more than you hurt yourself, and stay away, or they'll gather their forces and reel you in, and the sprinters will win when the line approaches.
So the die was cast. Maria hit it hard, and got to the top with a clear gap, taking 40 seconds out of her nearest rival, Debra Lindstrom from Southern Masters, with Susan Fraser of Bairnsdale, and Lyn Vasudeva and Penelope Anderson of Vikings, not far behind. If you reach the top alone, then the only thing left is to pin your ears back and fly. So she did, and as the line approached, it was clear that the victory was hers. Maria's only company was a rider from a younger age group which was racing at the same time. As they approached the finishing arch, Maria was enjoying the moment enough to think, "I've never done a sprint finish, why not now?", and so the two of them raced each other to the line. Maria won that little race within a race as well. Most importantly, she came in over a minute ahead of her rivals. She'd added a third medal to her collection, in the space of just 6 months.
It's little wonder that Maria is planning to do some more racing! When asked how she got into the competitive side of things in the first place, she said it was from the encouragement she received from several other women. She had thought that racing would be too dangerous, but what she's found is great camaraderie. She described the masters scene as very friendly and social, with riders happy to share information and tips. 
And she adds, it's not only about the racing. Her start in riding, just last year, was with the Dad's Army group in northern Sydney, which is mostly blokes. Now that she's shown them a thing or two, Maria is building connections through a women's cycling WhatsApp group, and she's keen to see more women out riding and at the events.
(Story by Marcus Judge. More photos and reports at Cycling Australia Facebook page.)