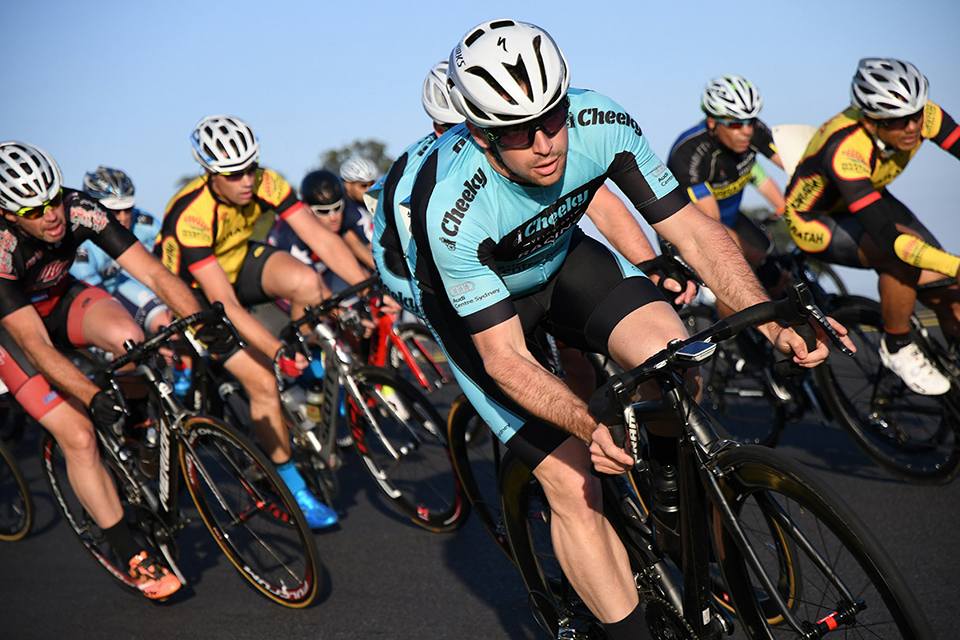 ALMOST 300 riders headed off for some testing criterium racing this morning at the Erik Mather Colnago Cup, the premier event run by the Waratah Masters Cycling Club each year at Sydney Motor Sport Park at Eastern Creek.
Division 1 saw 89 riders fight out a tight finish with no one able to make a break stick during the race. The winner was Nash Kent (Parklife) and second was Terrence Howes (Marconi).
Division 2 contained 80 riders with two riders, Rodney Latham (Illawarra CC) and Anthony Colantonio (BiciSport), getting away and successfully claiming 1st and 2nd. First female was Gerri Blomfield-Brown (Waratah Masters)
Division 3 had 69 riders and again no one was allowed to get away. The eventual winner was Evan Stilwell of SUVelo. First female was Sue Henry (RBCC).
Division 4 had 33 riders and was won by first time racer Matthew Youngman of Parklife CC who beat Ludwik Dabrowski of the Waratahs by the width of a tyre. First female rider was Clare Menzies RBCC.
Division 5 saw Bob Willis and Annie Simmons both of the Waratahs take 1st and 2nd in a starting group of 10.
(Report courtesy CNSW. Photo: Ernie Smith)