Waratah bikes of the bunch
With the amount of time, money and effort that go into our obsession with road cycling we thought it would be good to feel the tyres of our club members' favourite weapons.
To show off your latest arrival in the shed (where the minimum number of bikes one should have is three but the correct number is
n
+1, where
n
is the number of bikes currently owned) send in a photo or 2 together with the specs and a short review.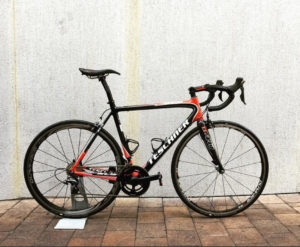 This was a previously used frameset found through the Carbon Bike Doctor.
It's a well designed frame by Peter Teschner and was a worthy successor to the EuroPro. It's not flashy or radical but a bit more stylish and gets the job done. It also matches my Teschner TT bike nicely!
DuraAce 9000 mechanical group
Praxis 52/36 cranks
DuraAce C35/C24 wheelset
Schwalbe One 25mm tyres
3T bars and stem
Thompson Masterpiece seatpost
SQlab Ergowave saddle